The warmer weather is slowly arriving and the Sophora NV Cuvee Sparkling Wine and crab salad (see below for recipe) combo is the perfect combo to welcome spring!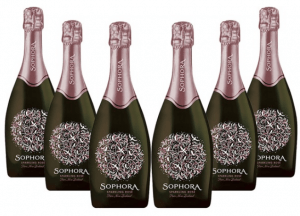 Sophora NV Cuvee Sparkling Wine Tasting Notes:
Don't confuse NV – non-vintage – with lower quality.  Non-vintage just means that the wine in the bottle has been blended with a "reserve wine" during the second fermentation to create a house style.  This wine is scrumptious.  When the distributor came by with it for a tasting, I was blown away and asked to take it home that evening to share with my true love.  And even my beloved, who for the past 23 years has professed indifference to sparkling wines, loved it.  It is rich and full-bodied, being a combination of 52% Chardonnay and 48% Pinot Noir, with the best of both grapes.  Crisp acidity, fruit forward off-dry taste and a round, soft mouthfeel aided by the very fine bubbles.  Had I not known better, I might have guessed it was a champagne and twice the price.  This wine will pair perfectly with an endive and crab salad.
Crab Salad in Endive Leaves
1/2 lb. crab meat, all cartilage removed
Dressing: 

1 tbsp Dijon mustard
1/3 cup mayonnaise
1/3 finely diced celery
Grated zest of 1 lemon plus 1 or 2 tbsp lemon juice
2 tbsp chopped fresh chives
1 tbsp fresh flat leaf parsley, chopped
Salt, ground black pepper and cayenne pepper to taste

12 to 18 Belgian endive leaves
To Make:

In a large bowl, combine the mustard, mayonnaise, celery, lemon juice, chives and parsley. Add the crab meat and mix in gently. Season to taste. Cover and refrigerate until ready to serve. When ready, scoop some crab salad into individual endive leaves and arrange on a platter.
http://www.mysticwineshoppe.com/wp-content/uploads/2018/03/IMG_7492.jpg
2448
2448
Eric Faiola
http://www.mysticwineshoppe.com/wp-content/uploads/2020/04/Logo_horizontal_2.gif
Eric Faiola
2018-04-17 09:01:51
2018-03-28 11:12:38
Crab Salad & Sparkling Wine