The angel on the label of this wine says it all – it is heavenly.  In more ways than one.  Not only is it absolutely, mouth-wateringly delicious, it is grown and made close to the clouds.  Alto Adige, Italy or more primly in Austria, Sudtirol, is a land of soaring mountains and lush green valleys divided by the Adige and Isarco rivers.
This is a rugged landscape that includes breathtaking vistas of little fairytale villages and dramatic snowy peaks that reach over 10,000 feet.  How do they grow vines in this amazing terrain that can also be cold and forbidding?  The answer is very carefully!  On small plots of land, lovingly tended by hundreds of farmers.  St. Michael-Eppan is a cooperative of 340 farmers who farm 380 hectares (939 acres) of land.  Large scale grape production would be impossible in this part of the southern Alps that are characterized by sometimes dizzying slopes.  In order to thrive, the vines are planted on south facing slopes to receive maximum sunlight and receive protection from the cold northerly winds howling down through the high mountains.  And because of the rugged terrain, the grapes must be hand-selected and harvested in small batches.
The Lahn Sauvignon Blanc from St. Michael-Eppan is the flagship wine of this wonderful producer.  Established in 1907 with 27 farmers originally, the winery has hewed to the highest standards of winemaking for over a century.  The limestone-gravel soils give the fruit lovely, floral aromas while aging on the lees and in oak barrels gives the wine a wonderful toasty, soft mouthfeel.  The natural character of the wine – apples, lemons, fresh cut hay – is preserved through careful handling resulting in a wine that is reminiscent of a very high quality Sancerre.  At only $16.99, given the amount of work that goes into the harvesting and winemaking, it is a huge bargain.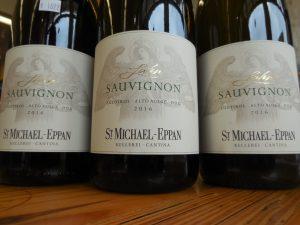 My husband and I opened this wine after a very busy weekend over take out pizza.  To make it a bit more festive, after the pizza (potato & bacon and pepperoni & mushroom), we broke out a wonderful nutty aged Robusto Gouda, a nice, perfectly ripe Camembert and a borough-market Stilton with an arugula, blueberry and pine nut salad.  This wine stood up to all of it, despite being a cool-climate, relatively delicate white wine.  It was tangy enough to balance out the strong flavors of the pizza, yet fragrant and well structured enough to offset the richness of cheeses.  It was the perfect end to a hectic, exhausting weekend!
Prost!
Seema
http://www.mysticwineshoppe.com/wp-content/uploads/2014/11/St.-Michael-Eppan-John-Sauvignon.jpg
1200
1600
Eric Faiola
http://www.mysticwineshoppe.com/wp-content/uploads/2020/04/Logo_horizontal_2.gif
Eric Faiola
2018-03-06 21:10:14
2018-03-06 21:11:15
Weekly Wine Pick: The Lahn Sauvignon Blanc