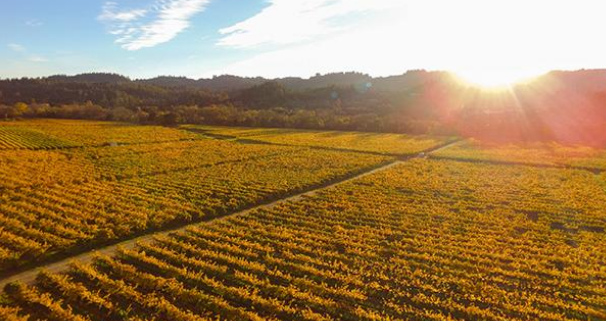 Wine tasting is an endeavor of sheer endurance.  That is a lesson I have learned through sheer, hard work.
Let me start at the beginning.
Sonoma County
, 90 minutes north of San Francisco, is gorgeous wine country.  Picture rolling, lush green hillsides, covered in orderly and beautifully staked and grown grape vines interspersed with aspens, sycamores, wild grasses, flowers of all colors and herbs of all fragrances.  Driving through the winding roads, you roll down the windows and smell the fresh air as if it is something that reaches into your lungs and blows wonder into your every pore.
The morning temperatures are cool and breezy and perhaps a bit foggy.
  The perfect temperatures to put on a sweater, drink some hot coffee and set off on a day of exploration for the senses.  The afternoon warms you up just enough to sun your face and make you feel like you should find the closest hammock for a nice little nap.  And the evenings… are slow as molasses.  Breathtaking shades of peach and lilac drift through the sky as the sun sinks lazily past the horizon, bringing that hint of chill, making you want to reach for your favorite bottle of pinot noir – or is it zinfandel
tonight
?
My particular adventure has been in the Dry Creek Valley of Sonoma Valley
.  I have never felt more whole as a person than I feel here.  Life is relatively simple here.  People work hard, they grow the grapes, they make the wines and they sell those beautifully labelled bottles full of dark magic.
Sonoma Valley is best know for Pinot Noir and Chardonnay in the Russian River Valley areas and for their juicy, scrumptious Zinfandels along with world class Sauvignon Blanc (often called "Fume Blanc") and Cabernets in the distinctive Dry Creek Valley style.
Ferrari-Carano is one of those vineyards that changes one's life.
  You wander up to the Italianate facade and filled with wonder, continue through the magical gardens filled with spring blossoms of cherry and apricot, azaleas and tulips to the fountains and statues, wondering, why can't I just live here?  Can't I just move here and leave everything else behind?
And all of this before you even taste the wines!
http://www.mysticwineshoppe.com/wp-content/uploads/2018/04/Screen-Shot-2018-04-20-at-3.21.38-PM.png
351
606
Eric Faiola
http://www.mysticwineshoppe.com/wp-content/uploads/2020/04/Logo_horizontal_2.gif
Eric Faiola
2018-04-20 15:22:55
2018-04-20 15:24:44
Nothing dry about Dry Creek Valley