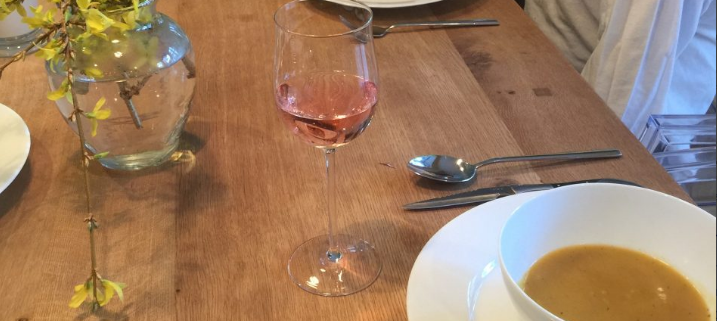 Summer is the time of the year that I come alive.  Having grown up in India, on a beach in Goa no less, I am still accustomed to sunny days and warm ocean breezes.  Right now, I feel like a bear emerging from hibernation, as the crocuses finally pop up and the forsythia celebrate the changing season with bright yellow sprays of color.

And speaking of celebrating, what better way to cheer on the warmth, the long, lazy days and heat of the sun on your bare skin than to chill down a beautiful bottle of rosé and throw the windows open for the fresh air.  
That is exactly what I have been doing with a dry, refreshing bottle of Castello di Bossi Rosato.  Just saying the name of the wine makes me happy.  
The Castello di Bossi Rosato, made from 70% Sangiovese grapes and 30% Cabernet Sauvignon grapes, uses the maceration method to gain some color from the red grapes.  That means that it spends approximately 3 hours in contact with the red skins of the grape before the juice is pressed off and fermented separately.  There are two other methods for making 

rosé wines.  One is just to blend in some red wine to add color.  This is generally not allowed in most wines that want to be labeled as quality wines.  The second is to use a technique called "Saign

é

e", which means to bleed off.  In this method, some of the wine in a red wine fermentation is bled off after a short period of time to be fermented separately as ros

é, which leaves less juice and more skins in the main vat to concentrate the flavors of the red wine.  This technique is used in places like Bandol in Southern France where the grapes may not have ripened enough or in places like Napa Valley, where vintners want to make richer, more extracted wines.  
This Rosato is a dry, dusty, wonderfully aromatic wine full of bright cherries and cranberries and hints of fresh, wild herbs.  On the mouth, it has a 

bright acidity on the open with a fruity, yeasty lingering finish.  One of the secrets to enjoying a good wine is to appreciate what comes before and after as much as the actual taste.  You should smell it, swirl it, smell again.  As the volatile compounds are released, they tease you with elusive scents that change from second to second.  When you finally taste it, you are invariably surprised because the nose did not reveal all of its treasures.  And then, for a really good wine, you can just enjoy the lingering aromas after you have swallowed it.  Sometimes that is even the best part of the whole experience.  This wine gives you a similar experience.  Each part of the tasting gives you a different impression and a different experience.  And you realize after each sip that the process was so enjoyable that you want to experience the whole thing again.  
Serve this wine well chilled – in an ice bucket – with a plate of caprese salad and prosciutto, a light pasta with fresh vegetables and herbs, grilled chicken sausages and sage-scented butternut squash soup (like we did!) or a creamy mushroom risotto…you will be in heaven.
Thanks for reading, Seema
http://www.mysticwineshoppe.com/wp-content/uploads/2018/04/Screen-Shot-2018-04-26-at-12.41.21-PM.png
438
717
Eric Faiola
http://www.mysticwineshoppe.com/wp-content/uploads/2020/04/Logo_horizontal_2.gif
Eric Faiola
2018-05-10 12:23:57
2018-04-26 12:47:19
Bello Rosato!