Located in Boston's North Shore community, Ipswich Ale Brewery has been a bean town classic since 1991, making them one of the oldest craft brewers in New England. They are a well-known, household name to beer lovers all over Massachusetts and in New England in general. The overall vibe and image of the brand and brewery is just timeless, fun, and classic Boston. It is the perfect environment and brew selection for the exemplary beer lover.
The team at Ipswich Ale Brewery is jam-packed with industry experience and Boston culture. Their president started with the company back in 1994 as just a plain-old volunteer! Over the years, he had worked his way up from delivery guy,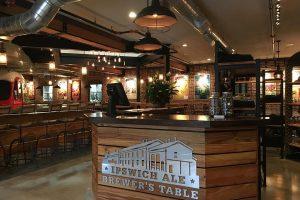 productions, and to Director of Operations! In 1999, he bought the brewery and molded and showcased it into the reputable, lovable brand we see today.
Now, what you've all been waiting for, the beer selections! Ipswich Ale Brewery offers 8 year-round beers at all times. Throughout the year they release 14 different seasonal beers. Along with these, they offer a special 3 types only available on tap at their on-site restaurant, the Brewer's Table!
Here are some descriptions of some classics, limited, and on-site offerings!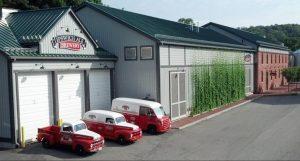 "Original Ale" Pale Ale: This original Ipswich classic provides a caramel malt accent with a bitter finish. This beer was created for drinkability, leaving you craving more than one (or two).  Year-Round
"Pesky Pils" Pilsner: This carefully brewed Pilsner has a proper German malt, Czech Saaz hops, and lastly, a bright, uplifting touch of Lemondrop hops. This beer is known for its refreshing, light taste.  Year-Round
"Oatmeal Stout" Outmeal Stout: This dessert-type beer is a deep, rich malt enriched with flavors of coffee and chocolate. "It's what espresso would be if it had the gumption to be beer."  Year-Round
"Pumpkin Porter" Brown Porter: This is a traditional brown porter brew with actual, real pumpkin and a pinch of pumpkin spice. This festive choice includes sweet caramel malts, cloves, and nutmeg.  Seasonal
"Blueberry Shandy" Blueberry Shandy: This brew will change all the shandy-hater's minds. Zesty and sweet, this lemon and blueberry combo will leave you begging for more!  Seasonal
"Revival" Belgian Style Saison: A beer for the working man and woman, this golden-hued brew contains fruity yeast esters and a hop aroma.  Seasonal 
Make sure to add Ipswich to your list of breweries to visit! Along with tasty brews, you can also grab a bite to eat at their restaurant! Being huge fans of Ipswich Ale Brewery ourselves, we at Mystic Wine Shoppe also carry their year-round and seasonal beers! Make sure to stop in and pick up a pack. You can't go wrong with this timeless, New England classic!
http://www.mysticwineshoppe.com/wp-content/uploads/2018/10/Wallace.jpg
900
1500
Eric Faiola
http://www.mysticwineshoppe.com/wp-content/uploads/2020/04/Logo_horizontal_2.gif
Eric Faiola
2018-10-15 12:26:43
2018-10-15 12:26:43
Brewery of the Month: Ipswich Ale Brewery