One of the silver linings of the COVID-19 pandemic is that because people are working from home, animal shelters around the country are reporting record numbers of adoptions. I was lucky to find a "pandemic pup" of my own at Shultz's Guest House in Dedham. A mix of terrier, hound, and adorableness, I named him "Bernie" and in the two months that I've had him, he's mastered housetraining, sleeping through the night, and a few basic commands.
I figured we were ready to be houseguests.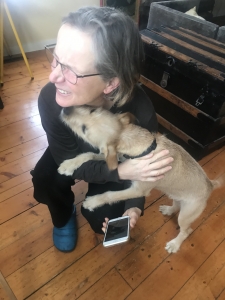 My friend Beate, owns a farmhouse in New Hampshire with plenty of space to social distance, lots of land, open fields, and room to run. It's a puppy paradise. So, Bernie and I hit the road. We packed a box of dog biscuits (also, puppy chow, his bed, chew toys, leash, and harness and poop bags) as well as a big pot of black bean soup (recipe below) and a couple of bottles of Mulderbosch Faithful Hound red wine. It's a blend— kind of like Bernie.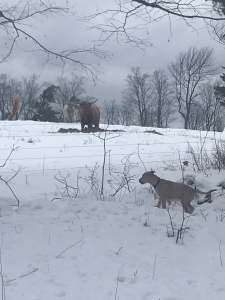 As soon as we hit Route 101 North, the landscape changed from brown to white. An hour later, Bernie was romping in the snowy field burning off his abundant puppy energy and I was heating up soup and uncorking a bottle of wine.
Mulderbosh's Faithful Hound 2015, is from Stellenbosch, the most famous wine-producing area in South Africa. The region is known for its Cabernet Sauvignon grapes, which are used to create Bordeaux blends, like the bottle I was pouring.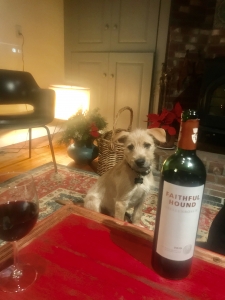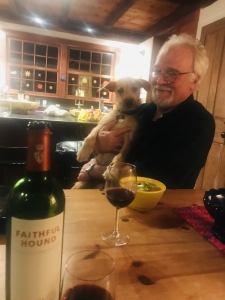 The wine is a beautiful color—swirl it in the glass and it's dark ruby red. Take a sniff and it bears a hint of vanilla, cedar, and berry. Sip it and you'll taste the earthy, fruity deliciousness that paired beautifully with the smoky citrus of the black bean soup.
We ate, we drank, we played with the puppy and then we looked out the window. The snow was coming down at a furious clip. It was clear that Bernie and I had to spend the night. And the next night, too. Fortunately, I had brought plenty of kibbles and an extra bottle of Faithful Hound.
The next day, we hiked through the woods, we played board games and at night, we ate more soup and drank the second bottle of wine. In the morning, I watched the snowplow clear the dirt road and knew it was time to pack up and, like a good dog, go home.
SNOWED-IN SOUP
4 cups dried black beans – rinsed
1 large ham hock (optional)
2 Tsp. olive oil
1 sweet onion chopped
3 garlic cloves smashed and minced
4 carrots sliced into half coins
4 cups (approx.) Chicken stock or water or a combination of both
I cup chopped tomatoes (canned or boxed)
3 bay leaves
2 tsp. rosemary
1 tsp. thyme
4 Tsp. cumin
black pepper to taste
salt
2 Tsp. brown sugar
1 large orange
In a large stockpot, heat olive oil. Add onions and garlic, bay leaves, thyme, rosemary and cumin. Cook until tender. Add black beans, tomatoes, ham hock and enough liquid to submerge ham hock. Add carrots. Grate orange. Retain zest, cut orange in half and add to pot with brown sugar. Cover and simmer until beans are tender. Add orange zest and continue to simmer. Remove meat from bone, chop and return to soup. Add more liquid and more seasoning as needed. Serve with chopped cilantro, a lime wedge and a dollop of sour cream.
http://www.mysticwineshoppe.com/wp-content/uploads/2021/01/IMG_2308.jpg
4032
3024
Eric Faiola
http://www.mysticwineshoppe.com/wp-content/uploads/2020/04/Logo_horizontal_2.gif
Eric Faiola
2021-01-25 20:14:25
2021-01-25 20:14:25
HAIR O' THE DOG: SNOWED IN WITH FAITHFUL HOUND