They say that March comes in like a lion and goes out like a lamb. But in New England, April winds can roar and the lion is very much alive well into May.
Last weekend, I followed the lion of winter north and drove up to visit my fellow fully-vaccinated friends in Harrisville, New Hampshire. I left Arlington on Friday night with a couple of bottles of Chasing Lions Pinot Noir, some good sharp cheddar cheese, and my beat-up Yahtzee set, excited, after a year of social distancing, to see people again. The trees were bare along Route 3 and there were still rogue piles of snow clinging to winter in the forest shadows and on the north face of Mt. Monadnock.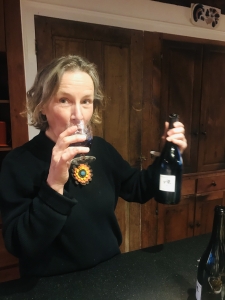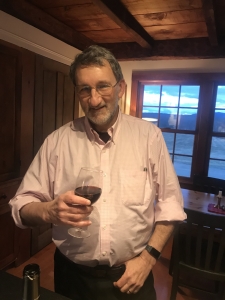 Harrisville, New Hampshire is a perfectly preserved little mill town. Perched on the shores of a picturesque lake, the heart of the town (and the only place to buy provisions) is the General Store. Supported by the Historic Harrisville Foundation, the General Store has been supporting the community throughout the pandemic by providing Friday night take-out dinners. Every week's menu is a new theme. Last week was Mexican with homemade tortilla soup, tamales, and an assortment of side dishes.
Chasing Lions Pinot Noir seemed like a fitting accompaniment. I couldn't wait to open it. As we waited for dinner to be delivered, I sliced up the cheddar cheese, got out some crackers, and uncorked the first bottle. It felt amazing to be with people again.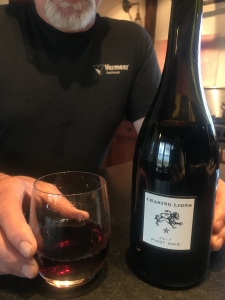 Produced by the Nine North Wine Company of Napa Valley, the Chasing Lions, 2017 Pinot Noir is easy to love. My friend Andrew and his wife Mary Lou are well versed in wine and they noted notes of cherry and citrus. Our host commented that she tasted a bit of spice and I simply proclaimed it "delicious."
By the time our tamales arrived, we were ready to open the second bottle and the laughs and conversation flowed as easily as the wine.
Now, the lion of winter has seemingly moved on. The daffodils are blooming —even in the shadows of Mt. Monadnock— and I'm delighted to have found a wine that I'll be uncorking to celebrate not just the return of spring, but also the gradual return of dinner parties and lifting a glass of wine with friends. Cheers!
Thanks for reading,
Carol, Mystic Wine Shoppe's Wine Connoisseur
http://www.mysticwineshoppe.com/wp-content/uploads/2021/04/tempImagemSV07A.jpg
3024
4032
Eric Faiola
http://www.mysticwineshoppe.com/wp-content/uploads/2020/04/Logo_horizontal_2.gif
Eric Faiola
2021-04-13 09:48:57
2021-04-13 09:48:57
Wine Review – Chasing Lions 2017 Pinot Noir