Everybody in Arlington thinks that they live in the best neighborhood, but I really do. On my street we don't just get together for block parties, we regularly have backyard barbecues, game nights, afternoons with the Patriots and dinners together. And the food is always extraordinary. But on Friday, after a week at work when everyone just wants to hang out, we often throw together a big green salad order a couple of pizzas and holler to the 'hood that the door is open.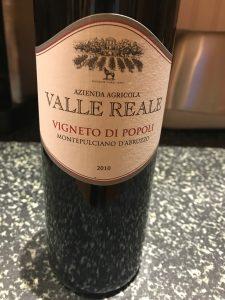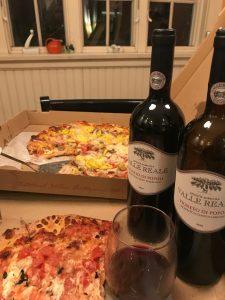 Since the venerable Nicola's closed, we don't have a regular place for pizza but, as long as there a hot cherry peppers on top, I'm good—so we've sampled lots of local places. This Friday, it was two large pizzas from the Northender Italian Kitchen in Arlington Heights. We got a plain cheese and a sausage, onion and hot cherry pepper (my favorite) and put out the call to the neighbors.
I've discovered that same way it can elevate a burger from fast food to fine dining, a nice glass of wine can make a takeout pizza feel like a meal in a trattoria. I had a bottle of Valle Reale Montepulcano D'Abruzzo (2010) and when I called in the pizza, I opened the wine to let it breathe a bit. We lit a fire in the fireplace, and the neighbors came in, grabbed a paper plate, a slice of pizza and pile their plates with salad. The fire was roaring and for a while, no one spoke. It was the silence of contentment. Then Dave said "Hey, what's this wine? It's pretty good."  I poured myself a glass and took a sip. He was right.
I like a Montepulcano because it's bold enough to hold up to hearty food without the strong tannins that I sometimes associate with Italian wine. The Valle Reale Montepulcano D'Abruzzo (2010) was a deep rich red—almost purple. The first sip was satiny and offered notes of blackberry, a bit of mineral and even a hint of chocolate as it lingered on my tongue. I sipped again and swore that I tasted vanilla. I piled some arugula salad on top of my pizza and took a bite.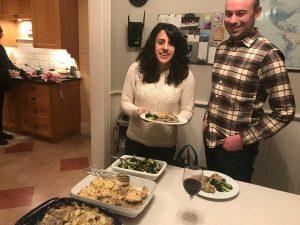 While I wasn't exactly transported to a trattoria in the Italian foothills, it was a delicious combination and made even better by the wine, the company and the prospect of a weekend ahead.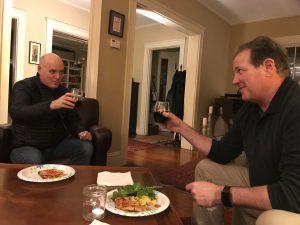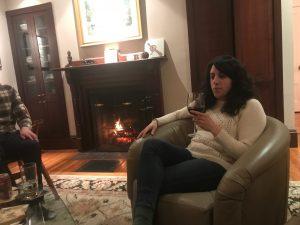 The neighborhood fun continued on Sunday when my neighbor Nancy, christened her new family room by inviting a gang in for an early supper, followed by football. The Patriots were playing Kansas City— which I think called for ribs, but Nancy made a wild mushroom and pasta dish that felt like pure comfort food. I pulled together another huge salad and brought another bottle of the Valle Reale Montepulcano D'Abruzzo (2010). While some thought that white wine would pair well, I found that the earthiness of the mushrooms was perfect with the Montepulcano. Others agreed and I congratulated them on their ability to cast aside outdated ideas like: "only drink white wine with mushrooms."  But the real congratulations of the night went to the Patriots. What a great game! What a great neighborhood!
Thanks for reading, Carol Band
http://www.mysticwineshoppe.com/wp-content/uploads/2019/01/IMG_1501-2.jpg
1512
2016
Eric Faiola
http://www.mysticwineshoppe.com/wp-content/uploads/2020/04/Logo_horizontal_2.gif
Eric Faiola
2019-01-23 20:17:04
2019-01-23 20:17:04
Valle Reale Wine Review