It's almost that time of year again! Warm weather, blue skies, sandy toes, BBQ's with friends and family. Summer is quickly approaching and what better way to kick it off than with Harpoon's Summer Ale's?
Harpoon was born in 1986 by three friends, Dan Kenary, Rich Doyle and George Ligeti. They all shared the same love: drinking beer. They realized that beer choices were limited and they quickly wanted to change that. The first Harpoon Ale was brewed in 1987 in a transformed warehouse space on the Boston waterfront. Here, the three friends took their love and passion for beer and created local craft brews for everyone to enjoy. The rest is history.

What's better than enjoying good times with good friends than cracking open one of Harpoon's summer brews? One of the hardest parts of the craft beer world is deciding which brew to choose. We know- it's a make or break decision, so we'll help you try to decide which one is perfect for your occasion. If it were up to us, we'd have them all.
Camp Wannamango: This pale ale brewed with mango begins with a subtle tropical aroma of passion fruit and mango. Golden-copper in color, it has a light body, slight hop bitterness, and malty sweetness, and finishes with a kiss of mango.
Hibiscus Cider: Hibiscus flowers give the cider its festive, effervescent deep pink hue, as well as a floral tartness that complements the sweetness from the freshly pressed apples.
Citra Sea: Citra hops provide a juicy citrus character in this grapefruit peel-infused IPA. The malt blend adds depth and a touch of sweetness and gives the beer its bronze hue and medium body. The finish is all citrus, all day. This IPA is easygoing and ripe with citrus flavor
Midsummer Fling: features a bright golden color, light mouthfeel, and citrusy aromas and flavors derived from the combination of Citra hops, elderflower, and lemongrass
Summer Beer: Their version of the traditional German Kölsch-style ale. This beer, which is light and refreshing, appears to resemble a lager rather than an ale. The body is soft and delicate with a dry, crisp finish.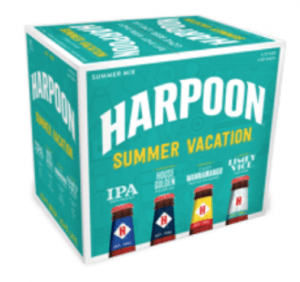 Still unsure of which summer ale you want? Don't fret, Harpoon also offers a Summer Vacation Mix Pack. Boston's Harpoon Brewery has been a standout in the local craft game for years. Stop by Mystic to browse our Harpoon selection, and sit back, relax and crack open a cold one.
http://www.mysticwineshoppe.com/wp-content/uploads/2018/04/Screen-Shot-2018-04-24-at-10.08.20-AM.png
486
1027
Eric Faiola
http://www.mysticwineshoppe.com/wp-content/uploads/2020/04/Logo_horizontal_2.gif
Eric Faiola
2018-04-24 10:16:08
2018-04-24 10:16:08
Brewery of the Month: Harpoon Brewery