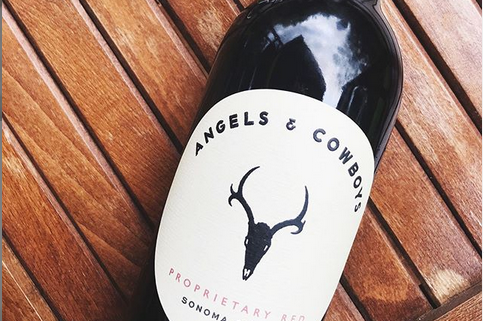 These days, I try to find any opportunity to feel normal. So when a day of working at home, washing my hand, and sitting in Zoom meetings gave way to an unseasonably warm evening and an invitation to eat hotdogs with friends, I jumped at the chance.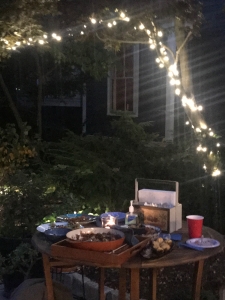 Good friends don't have to impress each other. Good friends don't need a formal invitation or fancy food. They can get together at the last-minute and make hotdogs for dinner. Because with good friends, it's not about what's on the table, it's about who's around the table. It's the company and the conversation that matters. Of course, the wine matters, too.
That's why, when I hung up the phone, I grabbed a pack of Hebrew National all-beef hot dogs and a couple of bottles of my new favorite red wine: Angels & Cowboys Proprietary Red, 2018, walked over, and settled into my friend's backyard.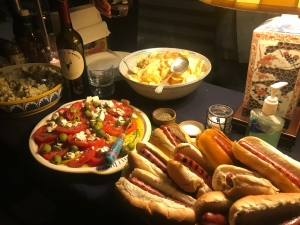 As the hot dogs came off the grill, I opened both bottles, poured (into disposable plastic) glasses for my friends, slipped off my mask, and took a sip.
From Sonoma Valley, Angels & Cowboys Proprietary Red is a blend of Zinfandel, Syrah, Petite Verdot, Sangiovese, Petite Sirah, and Malbec. Founded in 2014, Angels & Cowboys is a collaboration between Yoav Gilat, founder of Cannonball Wines, and Michael Schwab, a graphic designer from Northern California. Maybe that's why the label is so simple and appealing. Out of the bottle, the wine is a beautiful deep garnet color and tastes like autumn in a glass. I sniffed, I sipped, and immediately detected a tangle of berry and plum flavor with spicy notes of cardamom and mineral creating earthy robustness that I welcomed after a summer of drinking chilled whites, rosés, and fruity pinot noirs.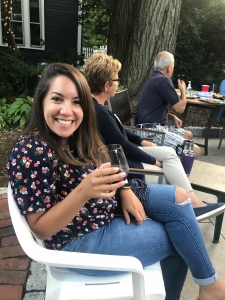 This was my first taste of the 2018 Angels & Cowboys Proprietary Red. Since that evening, I've shared bottles with friends from the neighborhood and beyond and enjoyed I've it at home with my family and with the presidential candidates during the debate. It's my new house wine and because it's less than $20 a bottle, I can afford to drink it with a roast of lamb, as the winemaker suggests, or pair it with hotdogs. It goes perfectly with both.
By Carol Band, our Wine Connoisseur
http://www.mysticwineshoppe.com/wp-content/uploads/2020/11/Screen-Shot-2020-11-02-at-3.22.10-PM.png
403
484
Eric Faiola
http://www.mysticwineshoppe.com/wp-content/uploads/2020/04/Logo_horizontal_2.gif
Eric Faiola
2020-11-02 15:23:37
2020-11-02 15:23:37
WHO DO YOU INVITE TO A HOT DOG DINNER? ANGELS & COWBOYS.