Beer and the blues go together like face masks and hand sanitizer. So, when my band, Bees Deluxe, was invited to play outdoors, on a socially-distanced stage at the Newburyport Brewing Company, we jumped at the chance. Especially since, along with being paid, the brewery promised us free beer and a six-pack to take home.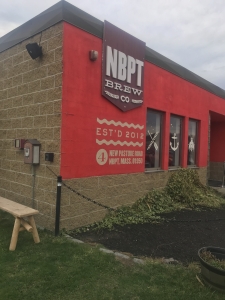 Chris Webb, owner of NPBC gave us a choice of dates. We picked the earliest one, betting on sunshine and unseasonably warm temperatures. Good thing we are musicians and not professional gamblers because when we pulled into the parking lot at the brewery, the sky was steely gray and Weather.com said it was 45 degrees in Newburyport. 
"No one is going to come to sit in the cold, drink beer and listen to us, " I grumbled as I positioned the tip bucket at  front of the stage.
I was wrong. People started filling in seats at the well-spaced picnic tables. The brewery staff pulled out propane heaters and fired them up. People wrapped up in blankets. And people drank beer. Anchor Pizza's truck pulled up and slices of gooey, hot pizza were passed around. 
The crowd was great. They left their blanket cocoons and got up to dance. They bought CDs. They wore their masks!  They tipped! We made new friends, saw a few familiar faces, and, after the first set, decided to sample some beer.
I've been a big fan of the NPBC's Greenhead IPA— it's my go-to where ever it's on tap. Hoppy and bright, without being too grapefruity, Greenhead delivers a delightful bite.  Plus I like the name.  So, I was delighted to discover that they carry it, and several other NPBC brews, at Mystic Wine Shoppe. And, fresh from the tap, just feet from where it's brewed,  the Greenhead didn't disappoint. Sitting under the heater, with the fragments blowing in the breeze behind me, I felt almost transported to a summer day on Plum Island. Almost. Paul, the drummer, and bass-player, Aldo, both chose the hazy Plum Island Belgian White.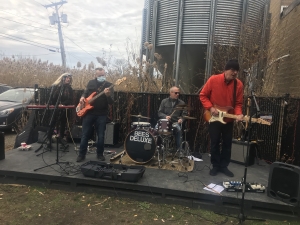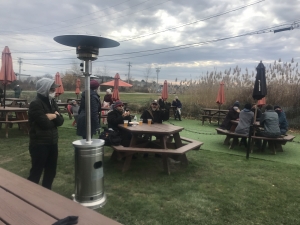 The Belgian White has hints of coriander and citrus. It won a Bronze medal at the 2016 World Beer Cup. The guys concurred that it was award-worthy. Our lead man, Conrad, went with the Joppa Grande Stout. A hardy coffee stout that pours dark with a tan head,  it impressed even our resident Brit.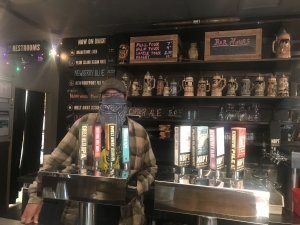 It was hard for us to put down the beers, go back on stage and pick up our guitars and harmonicas, but the crowd was ready for more music and we aim to please.
We played for two more hours and were surprised that most everyone there stayed for the entire show. Maybe they were grateful for the rare chance to hear live music or maybe… it was the beer.  
You don't have to travel all the way to Newburyport or brave the cold to sample their beer or hear great acid blues, you can pick up Newburyport Brewing Company beers at Mystic Wine Shoppe — including my favorite, NPBC's Greenhead IPA and for music to go with the beer, check out www.beesdeluxe.com.
Thanks for reading!
Carol, your MWS beer & wine enthusiast
http://www.mysticwineshoppe.com/wp-content/uploads/2020/11/IMG_2024-scaled.jpg
1920
2560
Eric Faiola
http://www.mysticwineshoppe.com/wp-content/uploads/2020/04/Logo_horizontal_2.gif
Eric Faiola
2020-11-25 10:34:33
2020-11-25 10:35:25
Beer and The Blues at Newburyport Brewing Co