The vibe that Lamplighter Brewing Co. embraces is a modern, funky environment that allows visitors to experience a unique twist on their basic brewery trip. This eclectic brewery, located in in downtown Cambridge, Massachusetts, focuses in quality, community, and craft. With a saying such as "I Love Lamp," a reference from the comedy hit, Anchorman, it comes as no surprise that this location meets its goal by being a fun, hip place to be.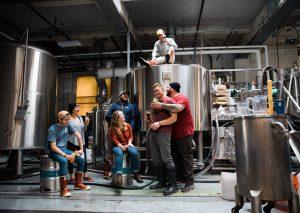 The team at Lamplighter is an energetic mix of different backgrounds in education and expertise who all share a strong passion for producing delicious beer. This team makes for a very fun, welcoming environment from the minute you enter the brewery. The space has a very modern, industrial look to it. From the exposed pipes to the classic Boston brick work, this brewery is a neighborhood favorite.
Now for the most important part, the beer. All together, Lamplighter creates 44 different types of brews. Impressive, right? Within these 44 unique choices, they focus on aroma-packed and flavor-driven ales, with an emphasis on New England IPAs, barrel-aged sours, and unique seasonals.
To help narrow down your possible selection, we're going to provide you the info on the 13 brews that happen to be on tap today!
"Alyosha" Abbey Ale: low ABV, and light body allow hints of fruit and spice to shine, while the addition of wheat and pilsner malts leave each sip soft and approachable.
"Brothers Antitoi" Brettanomyces Fermented Wild Beer: smooth and bright acidity is complemented by subtle underlying funk, layered atop flavors of fresh strawberries, ripe pineapple, and candied peach rings.
"Cuppa" Brittish Ale with Cold Brew: light and fruity hot bloom roast is added at the end of the brewing process to preserve as much coffee flavor as possible. The finished beer is made up of about 10% coffee.
"Ele" Saison: citrus forward flavors, hints of clove and spice, and a dry and peppery finish. Inspired by the character Eleven from "Stranger Things."
"Finnegan's Wake" Irish Dry Stout: akin to a smooth and creamy Guinness, with each sip bringing forth waves of bitter chocolate and freshly roasted coffee.
"Gestalt" Altbier: bright copper in color and exceptionally smooth, balancing assertive hop bitterness with warm malt character.
"Group Theory" Wheat Ale with Chamomile and Honey: despite the addition of syrupy raw honey to the brew, Group Theory has a lovely, dry finish as a result of the fermentation of its simple sugars. It takes its name from a central concept of abstract algebra, which pays homage to both the math background of one of their co-founders, and to their brewery name (a small math reference itself).
"Looking Glass" Extra Special Bitter: balanced notes of dark bread, toasted hazelnut, and a robust earthiness. The beer is then lightly hopped with Target and Challenger to accentuate those flavors.
"Luminati" India Pale Ale: each batch of this hoppy beer highlights a different hop addition, presenting ever-changing flavors atop the same bold, brash base beer. (citra, mosaic, bru-1)
"Metric Systems" Gose: this tart German wheat ale is refreshing and light, with notes of orange peel and lemon.
"Rabbit Rabbit" Double India Pale Ale: veritable juice bomb, boasting huge hop flavors of mango, melon, and ripe fruit.
"Space Monster" West Coast Style IPA: fresh departure from smooth and juicy New England-style IPAs, instead boasting a prominent bitterness and slight sweetness. From that base emerges omnipotent and monstrous flavors of sweet cedar, prickly pine, and ripe pineapple.
"Speedwagon" Kolsch: fermented with ale yeast, but then finished in cold temperatures like a lager. The resulting beer exhibits some of the best characteristics of both categories – light and quaffable, with a touch of muted fruitiness and a crisp, clean finish.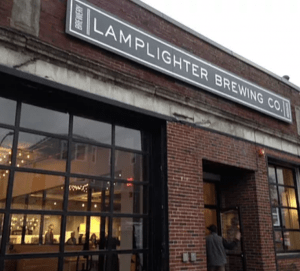 Find something you'd like to try? No surprise there! Lamplighter Brewing Co. has something for everyone! Make sure to stop into Mystic Wine Shoppe to pick up one of their brews on the go. If you need another excuse to try them, they hold trivia nights every Tuesday from 8pm – 10pm. Check their website for more upcoming events! With all the options they have to offer, the fun, funky environment, and the amazing location, make Lamplighter your next brewery must-see and the next pack you pick up from us!
http://www.mysticwineshoppe.com/wp-content/uploads/2018/09/lamp4.jpg
810
1500
Eric Faiola
http://www.mysticwineshoppe.com/wp-content/uploads/2020/04/Logo_horizontal_2.gif
Eric Faiola
2018-09-06 13:26:22
2018-09-06 21:05:50
Brewery of the Month: Lamplighter Brewing Co.