Located on the beautiful island of Nantucket, Cisco Brewery is a must-see when visiting the famous New England Island.  Guests are invited to sip their delicious Cisco beer, enjoy wine from their sister company Nantucket Vineyard, sample liquors from their second sister company, Triple Eight Distillery, and take a tour! It's truly a great experience.
Can't make it to the island? Stop into Mystic Wine Shoppe and shop Cisco Brewery products!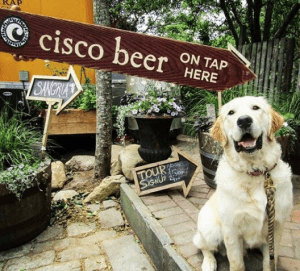 How Cisco Brewers was born:  Cisco Brewers was founded by Randy and Wendy Hudson. Wendy started home brewing with some friends while living in California, but in 1992 she returned to the island and met Randy. Instantly, she not only knew that Randy was her soul mate, but that he would make a great brewer. And so she bought him a beer kit.
When Randy and Wendy started selling beer, the entire operation-except the cold room, which was cooled by an air conditioner-was outdoors in the backyard. Wendy always called the original setup a "nano-brewery" because although they dreamed about it, they certainly were not yet a "micro." Many people thought it looked like they were making moonshine and they were right! Cisco Brewers had the distinction of being America's Only Outdoor Brewery.
While Cisco has a wide range of beers to try, we're going to highlight their Classics collection:
Whale's Tale: An amber English-style ale that has a nice balance between hops and malt. It's the most popular of their beers and the most versatile in terms of pairing with food or people.
Sankaty Light Lager: A light American Golden Lager. This delicious creation is light-bodied with tremendous balance and distinct hop character. At 3.8% alcohol and 126 calories, this light beer has true flavor and body while being easy to drink and easier on the waistline.
Indie I.P.A:  This beautiful red-orange ale has a full malty body balanced by a fruity apricot/grapefruit nose. Mounds of dank Summit hops in the whirlpool and dry-hop additions provide a delicious finish to this East meets West-coast ale.
Grey Lady Ale: Named for the often-foggy island where it is brewed. This wheat beer is fermented with Belgian yeast and brewed with fresh fruit and spices. A unique ale that emits a complex, earthy nose and a soft, mid-palate maltiness with hints of tropical fruit. Dry and spicy.
Interested in learning more about Cisco Brewers? They offer tours and tastings for all three of their business'. The tour price includes a tasting glass and you will be able to sample two wines from Nantucket Vineyard, two beers from Cisco Brewery and two spirits from Triple Eight Distillery. Come out and enjoy their Nantucket haven- just prepare yourself in case your mind blows up from all the awesomeness.
http://www.mysticwineshoppe.com/wp-content/uploads/2018/04/Screen-Shot-2018-04-09-at-11.03.57-AM.png
361
569
Eric Faiola
http://www.mysticwineshoppe.com/wp-content/uploads/2020/04/Logo_horizontal_2.gif
Eric Faiola
2018-04-11 11:04:06
2018-04-09 11:36:01
Brewery of the month: Cisco Brewers