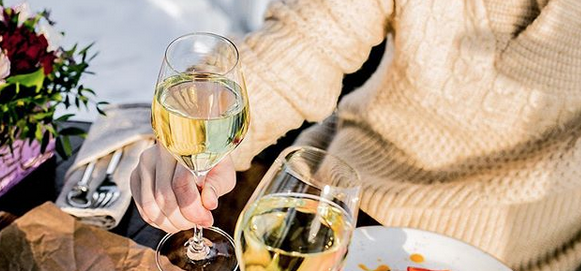 Lately, it seems we are all taking comfort in simple pleasures. We cook macaroni and cheese, we play Scrabble with our kids and we enjoy a glass of wine or two. Because after working at home all week, figuring out how to host Zoom calls, keeping the kids from going crazy inside* and watching our retirement accounts dissolve, we feel like we deserve a moment of pleasure. And we do. But before you uncork that Pinot Noir or uncap that Sauvignon Blanc, ask yourself: "Is this a quarantine-worthy wine?" A wine that's worthy of self-isolation is one that pairs well with sweatpants and stubble, whose subtle notes of pencil shavings and the forest floor are discernable through a face mask; it's a wine that you're willing to commit to because you'll be drinking all of it…. alone.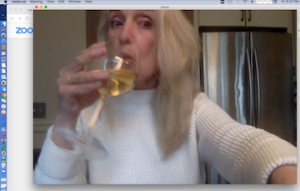 Such a wine is Gooseneck Vineyards 2017 Chardonnay. A white wine from Navarra, Spain, this vintage is a lovely golden color. It's light but complex with lovely notes of vanilla, oak and to my untrained nose, a hint of pear.
Here on Bartlett Ave., when it hasn't been raining, we've been social distancing with neighbors. That means we stand in the middle of the street and drink wine. Rain, however, forces us to Zoom and last Friday as the rain poured down, I thought it might be fun to bring everyone together electronically to virtually share the same wine. So I sprung for several bottles of the Gooseneck Vineyards 2017 Chardonnay (not a fortune), dropped them off to my neighbors with touchless delivery, and sent out the Zoom notice.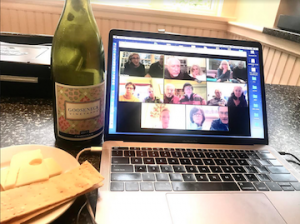 There were seven of us at this cyber-tasting and although my friends were impressed with my seeming generosity, I had to confess that the wine is shockingly affordable. As the Zoom party commenced, we talked about what we've binged on Netflix, we discussed mask designs and we talked about what we were eating with that night. One neighbor paired their Gooseneck Vineyards Chardonnay with an aged Brie and seeded crackers. Another thought that it perfectly complimented their homemade chicken tetrazzini, still another drank it with black beans and rice and I savored it with a fried haddock plate from Fresh Pond Seafood. The Gooseneck 2017 Chardonnay seemed to enhance each of these dishes and, I suspect, it would also go well exceedingly well with a bowl of popcorn and Netflix.
*It takes a village to raise a child but it takes a winery to homeschool one.
Article By: Carol Band, one of our amazing wine experts and connoisseur
Photos by Carol Band and Gooseneck Vineyards
http://www.mysticwineshoppe.com/wp-content/uploads/2020/04/Screen-Shot-2020-04-28-at-9.45.29-AM.png
271
581
Eric Faiola
http://www.mysticwineshoppe.com/wp-content/uploads/2020/04/Logo_horizontal_2.gif
Eric Faiola
2020-04-28 09:50:47
2020-04-28 09:56:32
Is your wine quarantine-worthy?!