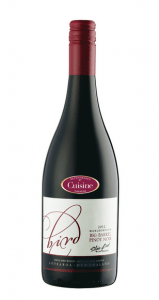 Bird Big Barrel Pinot Noir Tasting Notes:  There is not much one can say about this wine without gushing.  It is delicious. From the remarkable color to the nose full of delicately scented cherries and roses and baking spice and the taste of a very carefully and lovingly vinified Pinot Noir, it is to be savored. If handled improperly, Pinot Noir grapes will still yield a juicy wine, but it will lose all the uplifting aromatics.  Therefore, this wine is made in the eponymous big barrels to keep the oak from overpowering the essence of the grape.  The winemaker also uses an unusual "Vernou roll" technique that allows the wine to come into contact with the skins very gently and with limited exposure to oxygen, thereby preserving much of the flavor and intensity without extracting harsh tannins.
Pork or Veal Loin Glazed with Pomegranate and Oranges

One 3-pound roast of pork or veal, or two 1 1/2 pound tenderloins
Marinade

1/4 cup fresh orange juice
Grated zest of one orange
2 tbsp soy sauce
2 tbsp peeled and grated fresh ginger
2 tbsp pomegranate syrup or pomegranate molasses
2 tbsp hot mustard
2 tsp freshly minced garlic

Basting sauce

1/3 cup fresh orange juice
3 tbsp honey
3 tbsp pomegranate syrup or pomegranate molasses
2 tbsp soy sauce
2 tbsp reserved marinade

To Make:

In a large bowl, combine the ingredients for the marinade. Reserve 2 tablespoons. Then marinade the roast in a dish, covered by plastic wrap or a lid. Marinade for at least 6 hours, overnight if possible.
Combine the ingredients for the basting sauce. Reserve 1/4 cup for spoon on at the very end.
Broil or grill the roast or tenderloins not too close to the heat source, turning the meat and basting with the sauce at least 4 times. Cook until a meat thermometer registers 140 degrees Fahrenheit, 20 to 30 minutes for a large loin, 5 to 7 minutes per side for tenderloins.
Or, in an oven, place in a roasting pan at 400 degrees.  Baste every 5 minutes, until meat thermometer reads 140 degrees, about 40 minutes.
Transfer meats to a carving board and let rest for 10 minutes. Slice thinly. Simmer reserved basting sauce until slightly thickened. Spoon over meat to glaze.
http://www.mysticwineshoppe.com/wp-content/uploads/2018/03/Screen-Shot-2018-03-28-at-11.38.56-AM.png
302
799
Eric Faiola
http://www.mysticwineshoppe.com/wp-content/uploads/2020/04/Logo_horizontal_2.gif
Eric Faiola
2018-05-08 11:32:24
2018-03-28 11:40:21
Glazed Pork and Big Barrel Pinot Noir