Out on the far southeastern tip of Long Island is a playground of the rich called "The Hamptons." It's rumored that there, every summer, the rosé flows like water. That's how Hampton Water Rosé got its name. And yeah, it was launched by rocker Jon Bon Jovi and his son, who wisely partnered with acclaimed French winemaker Gérard Bertrand to create a wine that is much better than the mid-life anthem "It's My Life." Made in France, with a blend of 60% Grenache, 15% Cinsault, 15% Mourvèdre and 10% Syrah, the wine was proclaimed "Best Rosé of 2018" by Wine Spectator.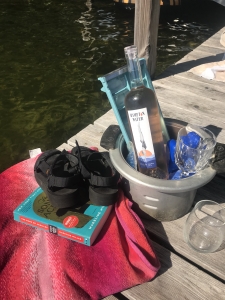 I didn't know that when I picked it up, I just liked the label, which features an illustration of a woman diving into the water. So, even though my tastes edge more toward Salisbury Beach than Sag Harbor, I brought a bottle of Hampton Water to accompany a weekend with my adult kids on a lake in New Hampshire. It was almost 5pm when my daughter and I brought some snacks down to the dock and opened the bottle.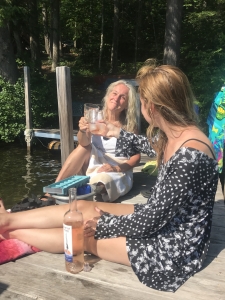 The sun was low, the water was sparkling and the wine was cold and delicious. I've found that some rosés can be too sweet, others a little harsh—a little alcohol-forward. This wasn't. It was fruity and fresh and bold enough to stand up to ice cubes and even a splash of seltzer (hey, the day was still young!). We were impressed with the bottle's glass stopper and we loved the way the wine tasted with sweet dark cherries and as well as with Irish cheddar. It even went with Cheez-Its (as I said, we're not in the Hamptons).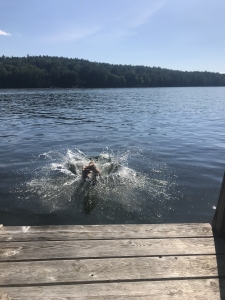 After a glass each, we decided to try to recreate the picture on the label by diving off the dock. Our attempts resulted in a few stinging belly flops and exuberant splashes that damped the Cheez-Its. That's when we decided that not only does Bon Jovi makes a very nice wine, but he was right: 'We ain't gonna live forever." So we climbed out of the water, toweled off, and finished the bottle. Like the man says "It's now or never." We choose now.
By Carol Band (our local wine connoisseur)
http://www.mysticwineshoppe.com/wp-content/uploads/2020/07/IMG_1370-2-scaled.jpg
2560
1920
Eric Faiola
http://www.mysticwineshoppe.com/wp-content/uploads/2020/04/Logo_horizontal_2.gif
Eric Faiola
2020-07-13 11:54:24
2020-07-13 11:55:28
Diving Into Hampton Water Rosé