Finally. The weather is warm, the deck's been power washed. We've been vaccinated and we're ready to get together with friends and neighbors to celebrate being…normal.
In my neighborhood, the first post-Covid gathering was last weekend at Dave and Denise's house, where the hospitality is unsurpassed, the wine is plentiful and everyone always feels welcome.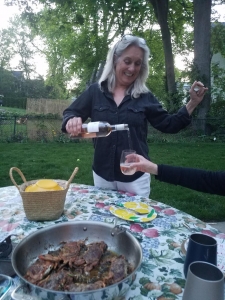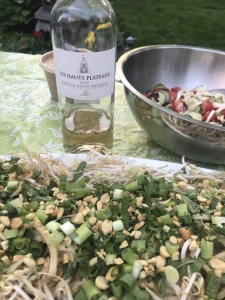 It was a last-minute, let's-see-what-the-weather-does invitation, so I made a platter of cold peanut noodles and picked up a couple of bottles of rose; Les Hauts Plateaux Alpes de Haute Provence Rosé 2020, to be specific. But don't let the haughty name fool you; this is an affordable and deliciously approachable wine.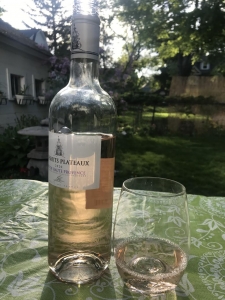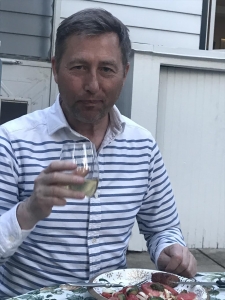 From Southwestern France, formerly part of the Provence region, this vineyard is drenched in sunshine. And you can taste it in the wine. Light with distinct fruit and berry notes, it paired well with cheeses served as appetizers and made my peanut noodles seem elegant. The beautiful pale pink (thanks to the addition of Syrah grapes) looks beautiful in a glass and caught the evening light. It's great with food (we also had grilled chicken), but would be delightful to sip unaccompanied on a summer afternoon. Even my discerning French neighbor, Jerome, proclaimed the wine to be "fantastique!" And it is. This proves that you don't have to spend a lot to get a very respectable bottle of wine with a label that looks like you spent a lot. And it's French!
I am looking forward to many more neighborhood gatherings this summer. I'll bring the Les Hauts plateau Alpes de Haute Rose. You can bring peanut noodles.
Here's the recipe for Carol's Noodles:
2/3 cup Teddy's smooth unsalted peanut butter
¼ cup soy sauce
¼ cup teriyaki sauce
 tablespoons brown sugar
Water to thin, as needed
Boil a pound of fresh Asian-style noodles (I use Hoy Toy). Cool by running under cold water. Toss noodles with half of the sauce. Arrange on a platter and garnish with: bean sprouts (or shredded cabbage) chopped mint and cilantro, chopped peanuts, and scallions.
Serve with remaining sauce and a glass of rosé.
By Carol Band
http://www.mysticwineshoppe.com/wp-content/uploads/2021/06/0-1.jpg
1362
1022
Eric Faiola
http://www.mysticwineshoppe.com/wp-content/uploads/2020/04/Logo_horizontal_2.gif
Eric Faiola
2021-06-04 16:48:56
2021-06-04 16:48:56
Impress for less with this tasty rosé