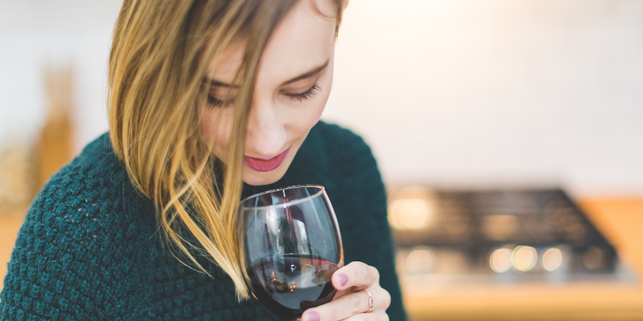 Just Breathe…
To decant or not to decant…
It's a question that many of our customers ask. How long should this wine breathe? Would it benefit from being decanted? What if I just can't wait to drink it?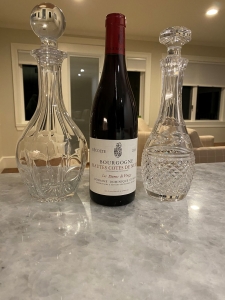 We're here to answer these questions and we're not too proud to say that, although we consider ourselves wine experts, we also checked in with the experts at Google.
Here's what we know.
Most wines benefit from some degree of aeration and that's what decanting accomplishes. Simply opening a bottle of wine and letting it sit isn't enough. The narrow neck of the wine bottle prevents enough air from reaching the entire bottle.
The best way to let a wine "open up" to its true potential is to decant it. A decanter aerates the wine twice. Once, when you pour it from the bottle into the decanter and again, as it sits in the decanter, which has a wide surface area. However, if you don't have a decanter (or you sold the one you got for a wedding present at a yard sale) the best way to let the wine "open up," is to simply pour it into a glass and let it sit for a while.
An interesting experiment to do, if you're patient, is to take a sip when you first pour your wine and then let it sit for a half hour before you take the second sip. Wow! Is that the same bottle of wine? You'll often be able to discern dramatic differences in aroma and in taste.
Aerating or decanting is especially recommended with bigger more tannic reds such as Cabernets, Nebbiolos and Petite Sirahs. Decant younger, bolder reds longer; old vintages for only 30 minutes or so.
Delicate reds and older, lighter wines like Pinot Noir, don't usually need to be decanted at all, just carefully poured into a glass. Other older—and by older we're talking wines aged over 15 years — reds like Burgandies, Riojas and older Chiantis can be treated the same way. Their age makes them more susceptible to the affects of oxygen. Let the bottle stand upright for 24 hours and then pour carefully to reduce the risk of sediment clouding your glass.
Drinking white wine? Whites also benefit from aeration, but not as dramatically as the reds.
A rule of thumb is that the younger the wine, the longer you should decant. Have fun and enjoy!
Here are some guideline that we think make sense.
Full-bodied Red Wines (Cabernet Sauvignon, Petite Sirah, Tannat, Monastrell, Tempranillo, etc): Use a decanter with a wide base. Decant for several hours
Medium-bodied Red Wines (Merlot, Sangiovese, Barbera, Dolcetto, etc): medium-sized decanter. Decant for about an hour.
Light-bodied reds (Pinot Noir, Beaujolais): serve in a small to medium-sized decanter that's been chilled. Decant for under an hour.
Store leftover wine (there's an oxymoron!) back in the bottle and drink within 36 hours.
Looking to get the best decanter? Check out this blog post.
Thanks for reading, Carol (Mystic Wine Shoppe's Connoisseur)
http://www.mysticwineshoppe.com/wp-content/uploads/2021/03/Screen-Shot-2021-03-04-at-5.12.04-PM.png
403
643
Eric Faiola
http://www.mysticwineshoppe.com/wp-content/uploads/2020/04/Logo_horizontal_2.gif
Eric Faiola
2021-03-04 17:15:27
2021-03-04 17:15:27
Just Breath…