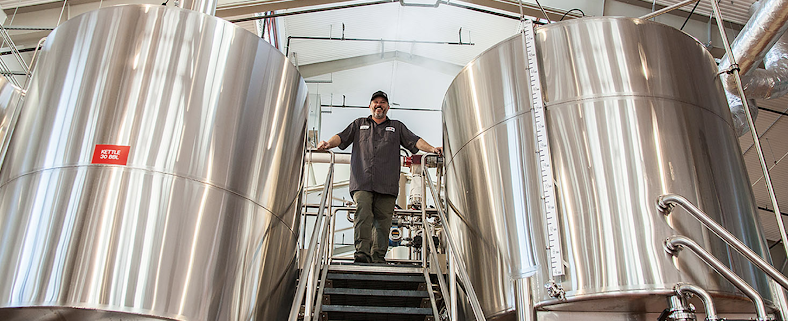 The culture Stony Creek Brewery embodies is one of creating high quality beer that inspires people across the region. Located in Branford, Connecticut, their modern brewery is a sight to be seen. They have a stunning indoor/outdoor taproom, game pit, dock access, and a first-hand look at their canning and bottling lines right from the taproom.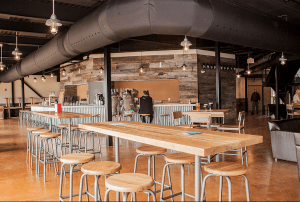 Stony Creek believes that this is the time for Connecticut craft beer. Their team is comprised of local residents that are working alongside some of the industry's best.
Stony Creek offers multiple styles of beer including The Crankies, an IPA selection, Lagers, Ales and their Seasonal collection. They also offer a limited series called "Flip The Bird", basically flipping traditional beer styles on their heads.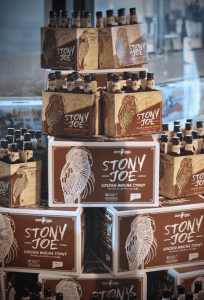 "No Egrets" American Imperial Stout: bold, pitch black brew is loaded with decadent notes of dark chocolate and roasted barley. Extended aging on White Oak contributes subtle layers of vanilla and caramel that lend a smooth complexity.
"Sour Silhouette" Sour Stout: What presents as a traditional stout is then kettle soured and aged on cabernet oak. The result is a beer that opens impeccably tart and finishes smooth, rich and roasty.
"Imperial Stony Joe" Imperial Golden Mocha Stout: Burundi Mpanga coffee lends complex notes of cocoa, spice, and fruit while Guatemalan coffee contributes a dark roast finish.
"Chahklit" Baltic Port: Chahklit is a Baltic Porter brewed with almonds and earthy Ceylon Cinnamon. Cacao Nibs impart rich chocolate depth. It ages in Caribbean Rum Barrels to lend oak complexity and subtle Rum nuance.
"Crimsang" Soured Double IPA: Adding fresh Blood Orange Juice, and then souring the wort. It is fermented with our their Saison Yeast Strain, lending spiciness, and a lush texture. In the end, you get an aggressive, west coast IPA with a refreshingly tart dry finish.
"Reposado Negro" Black Wheat Wine: Reposado Negro is A Black Wheat Wine aged in Tequila Barrels. A marriage of sweet alcohol warmth, smooth bready texture, and roasted malt "charred" flavors, this jet black brew will have you swearing you are sipping a top-shelf tequila.
"Lichtenlizzy" Hybrid of a Berliner Weiss and a smoked Rauch: A low alcohol wheat beer is lightly soured to contribute a tart finish. Balancing this are two types of smoked malt (Beachwood and Oak) combining to offer an incredibly soft, yet ever-present smokiness. Smooth and smoky, yet tart and refreshing. Intricate and distinct.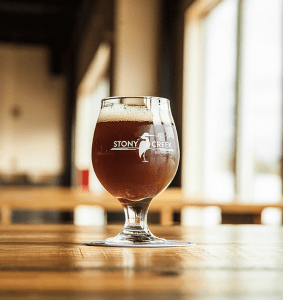 After reading through the list of Stony Creek's "Flip the Bird" series, if you need another reason to visit the Brewery, they have a long list of events to attend, including live music and good eats. You can also check out their gift shop and flaunt their apparel, as well as checking out their blog posts on their website. With great craft brews and good company, Stony Creek is a proud establishment that everyone can rally around.
http://www.mysticwineshoppe.com/wp-content/uploads/2018/08/3.png
536
788
Eric Faiola
http://www.mysticwineshoppe.com/wp-content/uploads/2020/04/Logo_horizontal_2.gif
Eric Faiola
2018-08-10 10:11:50
2018-08-10 10:13:18
Brewery of the Month: Stony Creek Brewery